Emmanuel has a long history and tradition of serving the community. In an active campus community committed to social justice, students make a difference, when and where they want.
Each year, over 80 percent of our student body participates in volunteer activities, resulting in more than 50,000 hours of service to the community. Emmanuel has been consistently placed on The President's Higher Education Community Service Honor Roll with Distinction. Community service is a vital piece of the Emmanuel College experience. An Emmanuel education is one that will make a difference in our students' lives. In return, it is expected that they will make a difference in the lives of others.
Emmanuel students have the opportunity to serve the community in a variety of ways, through the Office of Student Involvement, Mission & Ministry, service-learning academic courses and more. Students can participate in large scale days of service or on-going volunteer service at a number of agencies and institutions in the city of Boston.
In the Community
One day of volunteering can last a lifetime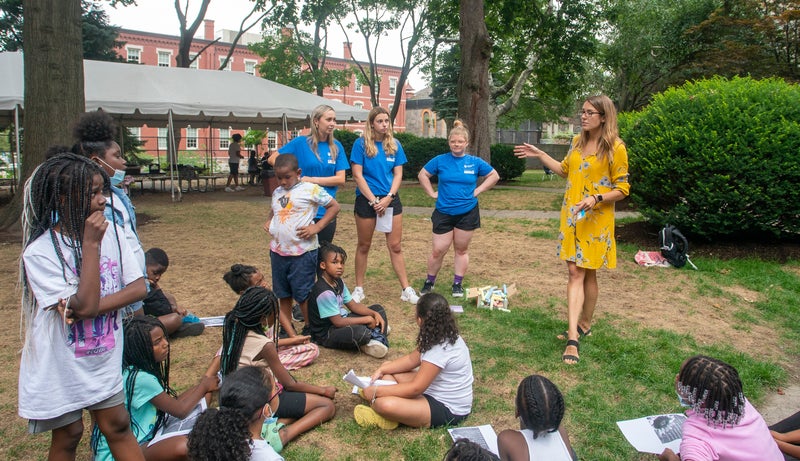 "

Throughout my four years at Emmanuel, I regularly participated in the service opportunities that Mission & Ministry had to offer. From weekend service trips to Alternative Spring Break, I learned about and connected with Emmanuel's various community partners and became more aware of the social injustices in our local community. Volunteering in the Boston area helped me understand what social issues were present around us and the ways we, as college students, can support our community and bring about change.

Lama Jaber Azzam '20, ECCO President and ASB Phoenix Student Leader
Let's Get Started.
Emmanuel is a place where students broaden their sense of what's possible and prepare for inspiring careers in an ever-changing world. Be here.